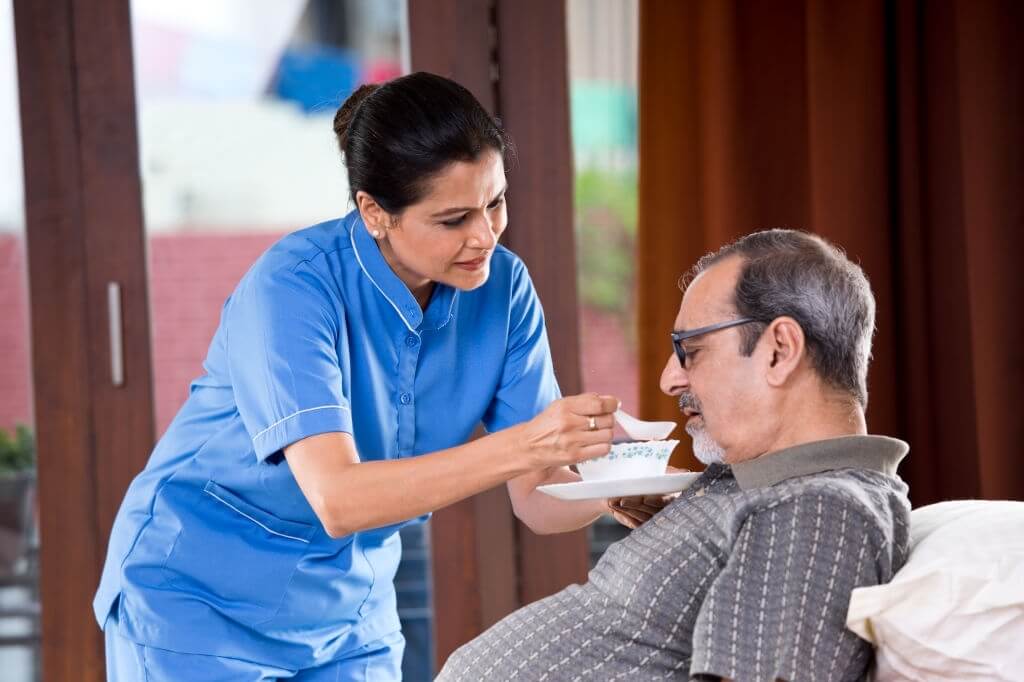 Specialized Care
Special Needs Caregiver: @RiteCare can provide one-on-one care appropriate for clients with various levels of care needs, including the specialized care required by an individual with Alzheimer's, Parkison's, and more.
Parkinson's Care - Caregiving Services: RiteCare giving for seniors that have Parkinson's. At RiteCare, you and your family's health, wellness, and comfort are our number one priority. We understand that living with Parkinson's disease can be difficult, both for the patient and the family. As a chronic, neurodegenerative disease it can be emotionally difficult to handle. At RiteCare, our philosophy is based on a "family first" approach to the way we treat and serve our clients.
Meal Preparation and Nutrition: Eating a healthy diet is important for those with Parkinson's disease. A clean and nutrient-dense diet is critical because it helps strengthen muscles and bones while reducing muscle atrophy and excess fat accumulation. RiteCare can help prepare healthy meals that will provide your loved one the nutrition he or she needs to maintain optimal health and vitality in his or her later years.
Personal Hygiene, Bathing, and Dressing: When someone is living with Parkinson's, it becomes difficult to accomplish some of the more common tasks we're used to doing on our own. We assist our clients in achieving these daily tasks while providing guidance and support to maintain independence.
Medication Reminders: Our Caregivers keep a sharp eye on the clock and ensure that your family member or loved one always gets the correct medication on time.
Mobility Assistance: Our trained Parkinson's disease Caregivers will give daily support and provide mobility assistance to those who need it. Our skilled Caregivers are sensitive to our client's needs to move and be independent and they provide support in instances when our clients need extra help because of muscular stiffness, shakes, or tremors.
Companionship and Activities: One of the most valuable experiences that come out of our program is the lifelong friendships and support our clients develop with our Caregivers. Having someone around to help clients engage socially is an essential part of good mental health and we take pride in the relationships that we create.
Emotional Support for the Client and their Families: Parkinson's disease can be emotionally exhausting and physically demanding, which is why we offer support to our clients and their families through our hands-on care management. At RiteCare, our emphasis on balanced caregiving drives our continued work towards providing a holistic approach to managing and improving the lives of our clients with Parkinson's disease.
Senior & Elderly Care - Caregiving For Your Loved Ones
Having a senior caregiver in your household can lessen stress for family members & provide essential support. It can also be a key part of the recovery process resulting from an illness or injury. RiteCare provides the support your loved one needs and the peace of mind you deserve
RiteCare@Home helps senior clients with:
o      Cooking and light housekeeping

o      Laundry and changing bed linens

o      Grocery shopping and errands

o      Companionship and range of motion exercise

o      Bathing, dressing, and grooming assistance

o      Transportation to medical appointments, the supermarket or pharmacy

o      Assisting with walking and transferring from bed to wheelchair

o      Status reporting to family

o      Medication reminders
Nutrition and Hydration: Nutrition and hydration are critical to health and recovery. Dehydration is a serious problem for the elderly, resulting in frequent hospitalizations. Poor nutrition has been implicated in slower recovery from illness and an increase in hospitalizations as well. Caregivers can shop for food, encourage fluid intake, and make meals. They can also reinforce and track any special dietary restrictions.
Heart and Lung Health: In some cases, Caregivers can check blood pressure. They can also encourage deep breathing to prevent pneumonia. Supporting seniors in light exercise and healthy eating can also benefit their overall heart and lung health.
Transportation and Errands: Transportation is a significant challenge for many seniors. Most of us know of an older person who continues to drive, even though he or she shouldn't be. Although it is hard to give up the wheel, having an alternative can make the task easier. Rite Caregivers can provide this valuable service, whether it is to the pharmacy or a play.
Dressing, Bathing, and Transferring: You may have had the experience of being unable to care for yourself due to an accident or injury. If you have had this experience, you know how challenging it is to get dressed and to bathe. Not to mention cook, clean, and drive. Now imagine this same scenario for a 90-year-old! Having care services for older adults in place means a Caregiver can assist with helping a client get dressed and out of bed. They can help him or her takes a shower and monitor their walking. @Home Caregivers can also help someone transfer from the bed to the toilet. Whatever the task may be, care for the elderly bridges the gap to offer a safe, and supportive environment.
Light Exercise & Movement: In some cases, Caregivers can check blood pressure. They can also encourage deep breathing to prevent pneumonia. Caring for seniors in light exercise and healthy eating can also benefit their overall heart and lung health. A Caregiver can help reinforce and encourage physical therapy activities. Movement after illness or surgery is critical to healing. Physical Therapists provided through home health can get people started on the right track. But Physical Therapy is time-limited. In most cases, a Physical Therapist leaves a list of activities for the patient to continue to work on. A Home Caregiver can monitor those exercises to make certain they are done safely and adequately.